26 Feb

Hyperbolic Fallacy – FT#20
Show Notes
When someone supports their argument by making a statement that is significantly more emphatic than can possibly be supported by evidence, they may be committing the Hyperbolic Fallacy.
As a rule a hyperbole is not meant to be taken literally. When someone says they had the worst morning ever, you
know they are being dramatic rather than literal. However, when someone uses hyperbole to defend or bolster their position in the absence of other evidence, their reasoning is not sound, because it is not possible to support such an extreme view with evidence – and often there is easily available refuting evidence.
We started out with this from the Donald:
Then we played this compilation of some of his 'best' moments:
In Mark's British Politics Corner, we talked about this over-optimistic claim from Liam Fox:
And this unfortunate choice of adjective from Boris Johnson
In the Fallacy in the Wild, we talked about this clip from American Dad:
And then we discussed the claims of Angelina Jolie's cancer doctor, Kristi Funk. All the details can be found in this excellent post by David Gorski on Science Based Medicine.
We briefly talked about Dan Rice and The Ballad of John and Yoko before moving on to play Fake News.
Here are the statements from this week's Fake News game, all of which were from Trump's insane, rambling Rose Garden press conference announcing the national emergency:
They're saying that Mexico isn't paying for the wall, and that's just a lie.  I never said they would write a big check, like bing bing bing. They're paying indirectly, through the money we're saving through the USMCA. Frankly, we made such a great deal with the USMCA, I think it's one of the best trade deals ever made, especially compared to NAFTA, which was one of the worst. We'll pay for the wall five times over with the money we save.

We had certain funds that are being used at the discretion of generals, at the discretion of the military. Some of them haven't been allocated yet. And some of the generals think that this is more important. I was speaking to a couple of them. They think this is far more important than what they were going to use it for. I said, "What were you going to use it for?" And I won't go into details, but it didn't sound too important to me.
Their criminal list, a drug dealer gets a thing called the death penalty. Our criminal list, a drug dealer gets a thing called how about a fine? And when I asked President Xi, I said do you have a drug problem? No, no, no, I said you have 1.4 billion people, what do you mean you have no drug problem? No we don't have a drug problem. I said why? Death penalty. We give death penalty to people that sell drugs, end of problem.
Click below for the answer
Mark got it right this week, so he's now on 32%.
Jim interviewed Joe Strupp, author of Killing Journalism: How Greed, Laziness (And Donald Trump) Are Destroying News And How We Can Save It. Jim and Joe talked about how the internet has affected newsgathering, the impact that Trump has had on the news cycle, the rise in fact checking, and the future of journalism.
Click on the book cover below to find out more about Joe and his writing, and buy his book –
It's an in-depth look at the real problems with today's news media — from staff cutbacks and 24/7 demands for content to reduced advertising revenue, less support for press legal defense and fewer in-house watchdogs to keep the news fair and honest. And, of course, the impact of Donald Trump's constant war on the press and false claims of "fake news."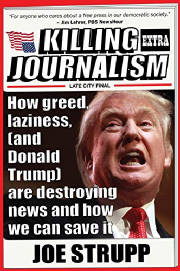 And finally, here are the stories we really didn't have time to talk about…
Thanks to our newest Patron, Eric Toffolo.  If you'd like to inflict "Ghosts Can't Do It" on us, then head over to Patreon and sign up.
Meanwhile, if you have 5 seconds to spare, please go and vote for us at fallacioustrump.com/vote and maybe we'll win some new podcasting gear!
See you all next time!